PRODUCE YOUR CHLORINE LOCALLY
PROCESS
The WATA device only need water and simple table salt to inexpensively produce active chlorine (at a concentration of 0.5 g/L).
This solution of concentrated disinfectant allows you to treat your drinking water as well as to disinfect objects and surfaces.

WATA devices
WATA devices come in four sizes with outputs of sodium hypochlorite ranging from 0.5L to 60L with a production time of 2 hours.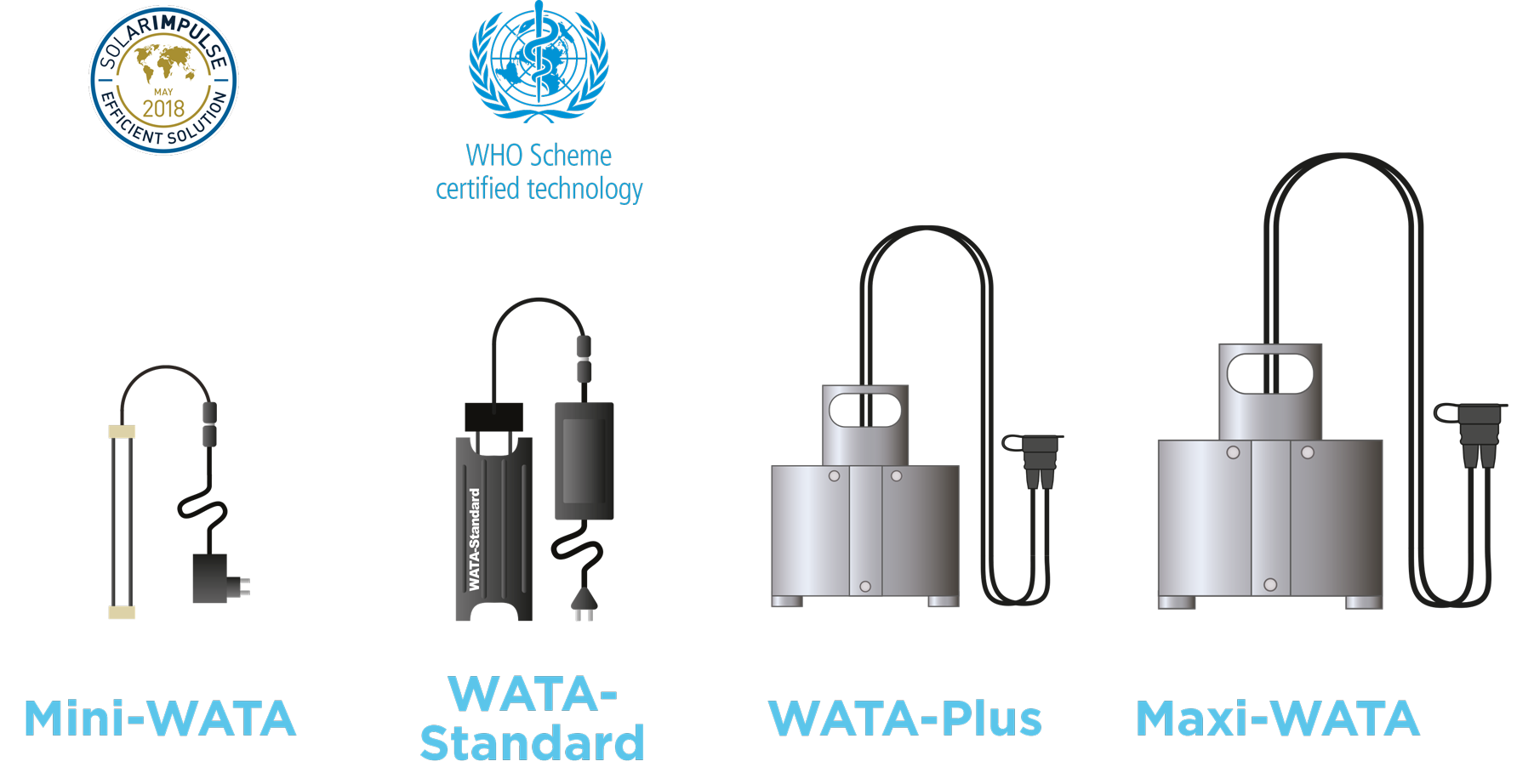 Click on the thumbnails below for more information on each device.
SOLAR MODULES
To meet the needs of rural communities where access to energy is precarious, WATA solar kits are powered by photovoltaic energy.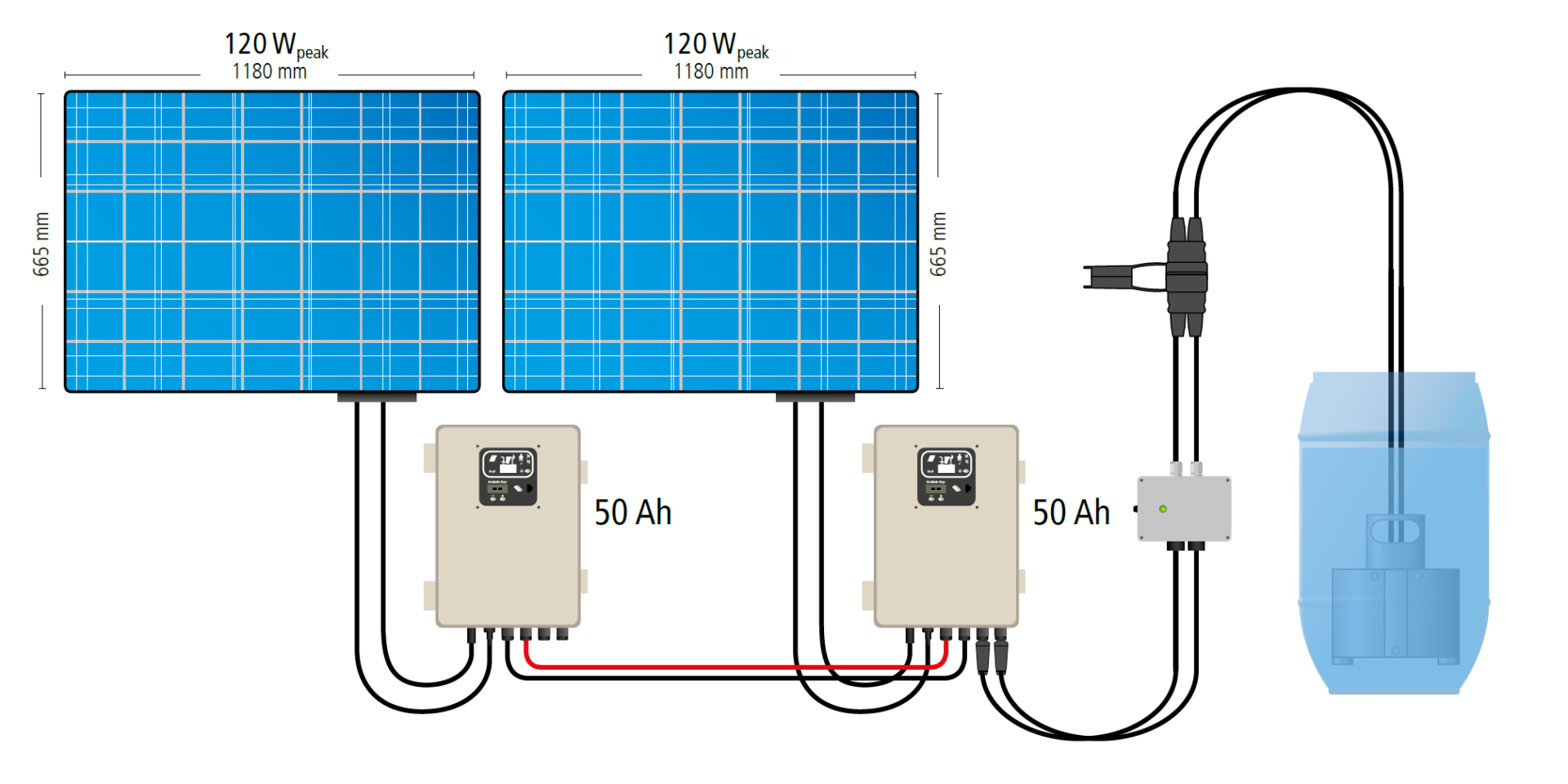 Availability
Mini-WATA, WATA-Standard, WATA-Plus
Capacity
2 productions per day
Power
12 Volts, 4 to 40 Amps
HOW TO USE WATA?
You will find demonstration videos that explain the use of the different devices step by step on the Tutorial videos tab and on Youtube.
STABILIZE AND CONTROL YOUR PRODUCTION
To facilitate the use of the active chlorine produced, we have developed three reagents, WataTest, WataStab and WataBlue. They allow to:
control the concentration of chlorine,
stabilize your production,
monitor the quality of treated drinking water.

The active chlorine concentration of a solution determines the use that can be made of it (drinking water treatment, surface disinfection, vegetable disinfection, etc.). The WataTest reagent thus makes it possible to determine the active chlorine concentration of any chlorinated solution (NaOCl, HTH, NaDCC, bleach).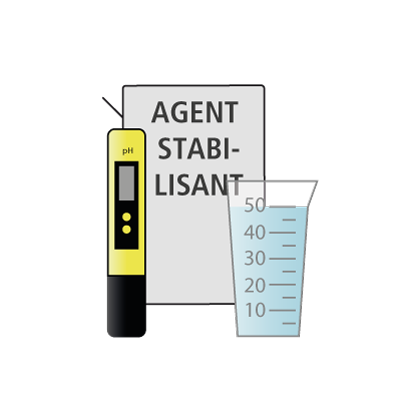 If you plan to use your sodium hypochlorite more than 24 hours after having produced it, WATA proposes a simple stabilization method.
The WataStab kit ensures that your sodium hypochlorite solution has a shelf life of at least 3 months.
In order to avoid recontamination of drinking water, it is essential to have residual chlorine in the water. The WataBlue reagent allows you to check the level of residual chlorine, and thus make sure you have the level recommended by the WHO.
PROJECT DEPLOYMENT
With more than 15 years of WATA experience in different countries and contexts, we have had the opportunity to collaborate with many different types of actors (humanitarian, development agencies, technical, commercial partners, etc.).
We are able to provide you with tailor-made services, adapted to different types of projects:

DRINKING WATER TREATMENT

HOSPITAL HYGIENE
services adapted to your needs
With our internal technical resources, as well as a network of trusted partner companies in various African countries, we are able to respond pragmatically to the problems you may encounter.
Our services are discussed on a case-by-case basis to determine together the best way to meet your expectations.
Our expertise at the service of the different stages of your projects:
FIELD SURVEY AND SIZING

Field mission to define the real needs of future beneficiaries
Definition of the type of WATA device needed according to your needs and budget
Sizing of solar power supplies
Planning activities with our network of partners.
PRODUCTION AND LOGISTICS

Design and quality control of the WATA technology
Collaboration with Swiss and European companies
Assembly of WATA devices in Geneva, Switzerland, by people traditionally excluded from the labor market
International logistics
TRAINING AND INSTALLATION

Practical training by WATA-approved trainers
Last mile logistics and equipment installation by the local WATA representative
Solar installations require expertise for which the professionalism of our representatives is essential
MONITORING AND EVALUATION

The monitoring of the installations is done remotely through the mWater online platform
This is how field data is collected and processed in Switzerland
Contact for warranty and customer service is made with our local partners and is managed on a case-by-case basis in collaboration with the team in Switzerland.