WATA technology allows the production of chlorine (sodium hypochlorite) useful for water treatment.  WATA contributes to Sustainable Development Goal 6: to ensure universal and equitable access to safe drinking water at an affordable cost, by integrating the participation of the local population in the management of water and its treatment.
WATA includes a range of products for different uses: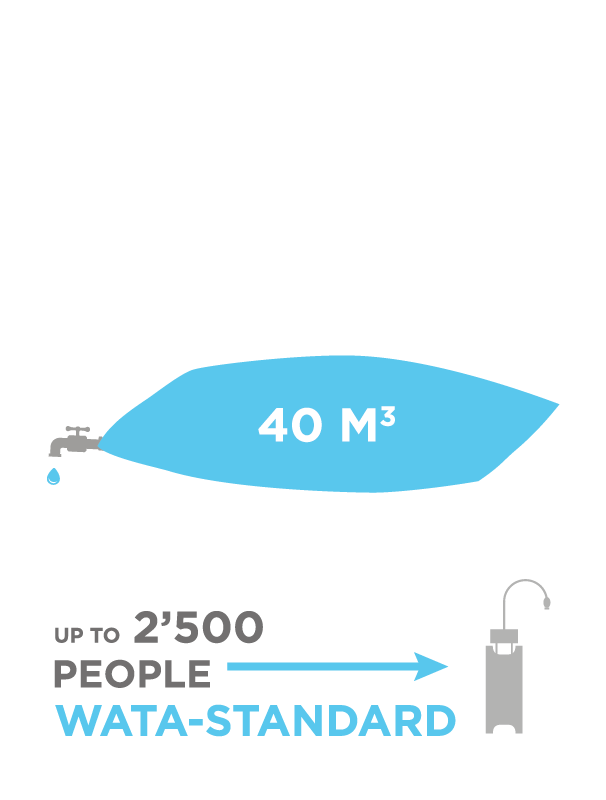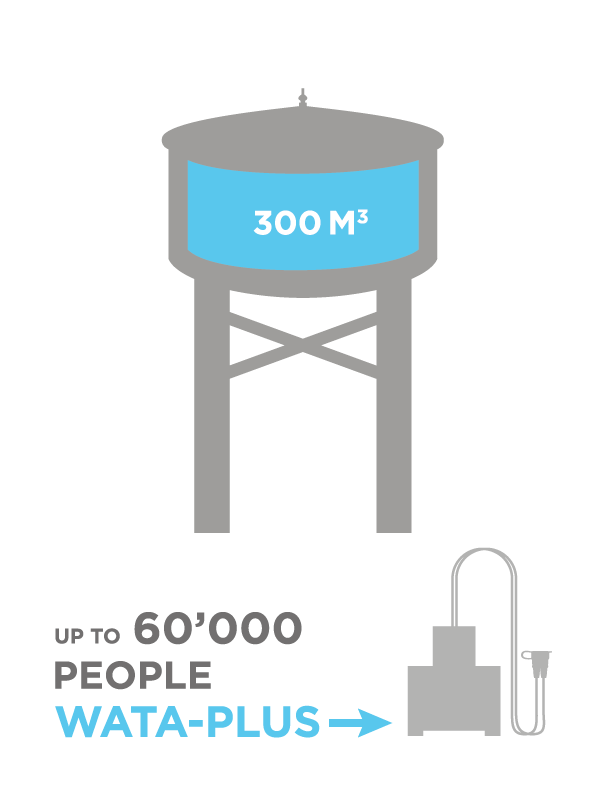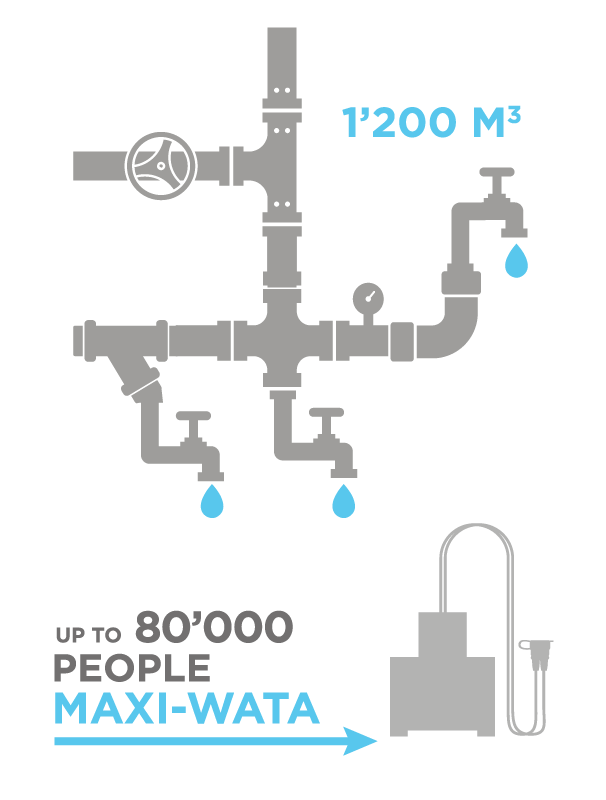 Local
On-site production
Quantity and concentration of chlorine adapted to the needs
Solar power systems

Simple
Compact and robust technology
Easy to use
Operator training
Free demonstration videos

Durable and sustainable
Limits pollution from logistics
Long-term investment:
+ 10 years of possible productions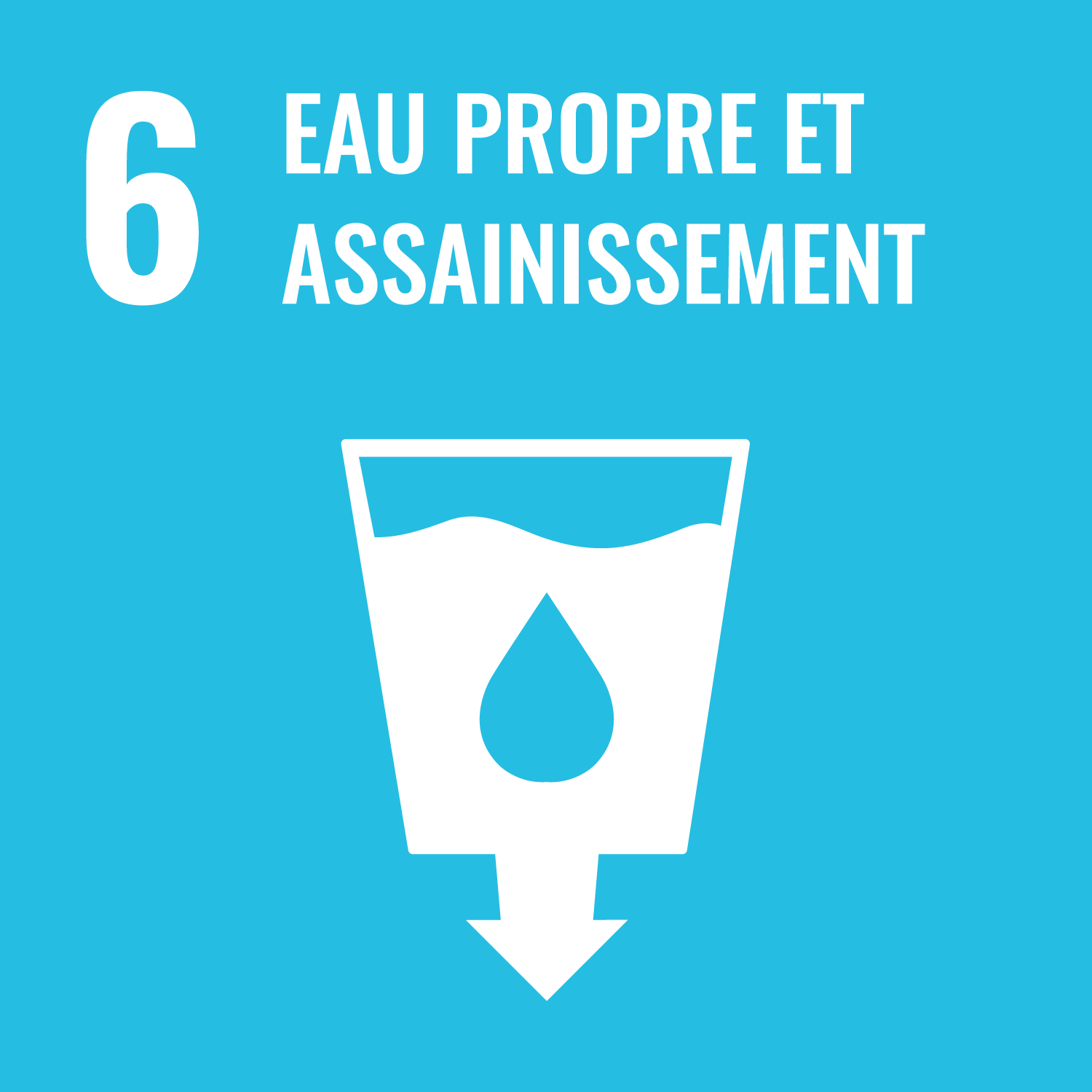 WATER TREATMENT IN NETWORKS
Drinking water supply systems (DWSS) bring water from boreholes or catchments to various distribution points: standpipes or private taps. Different sizes exist depending on the population served and the context, usually peri-urban or rural.
In many countries water is likely to be contaminated with micro-organisms at various stages of the distribution process:
At source, especially if it is surface water or if it comes from an unprotected springs
When stored in the water tower
During its transit through the pipes
During transport in household containers (e.g. jerrycans)
When storing in households
Chlorine
99% of bacteria and viruses in water are eradicated by chlorine. This disinfectant, the most commonly used in the world, is the only water treatment process with a persistent effect. Indeed, it avoids re-contamination of the water during distribution and storage*.
*WHO, 2017, Guidelines for drinking water quality – Fourth edition – p. 36
WATA TECHNOLOGY
Because our solution is simple and localized, it removes the logistical headache of transporting chlorine, as well as the insecurity of irregular supplies.. Sodium hypochlorite replaces chlorine powder (HTH) with local production and this reduces operating costs while increasing autonomy.
In addition, the WataBlue reagent is a simple way to measure the amount of chlorine residual in drinking water.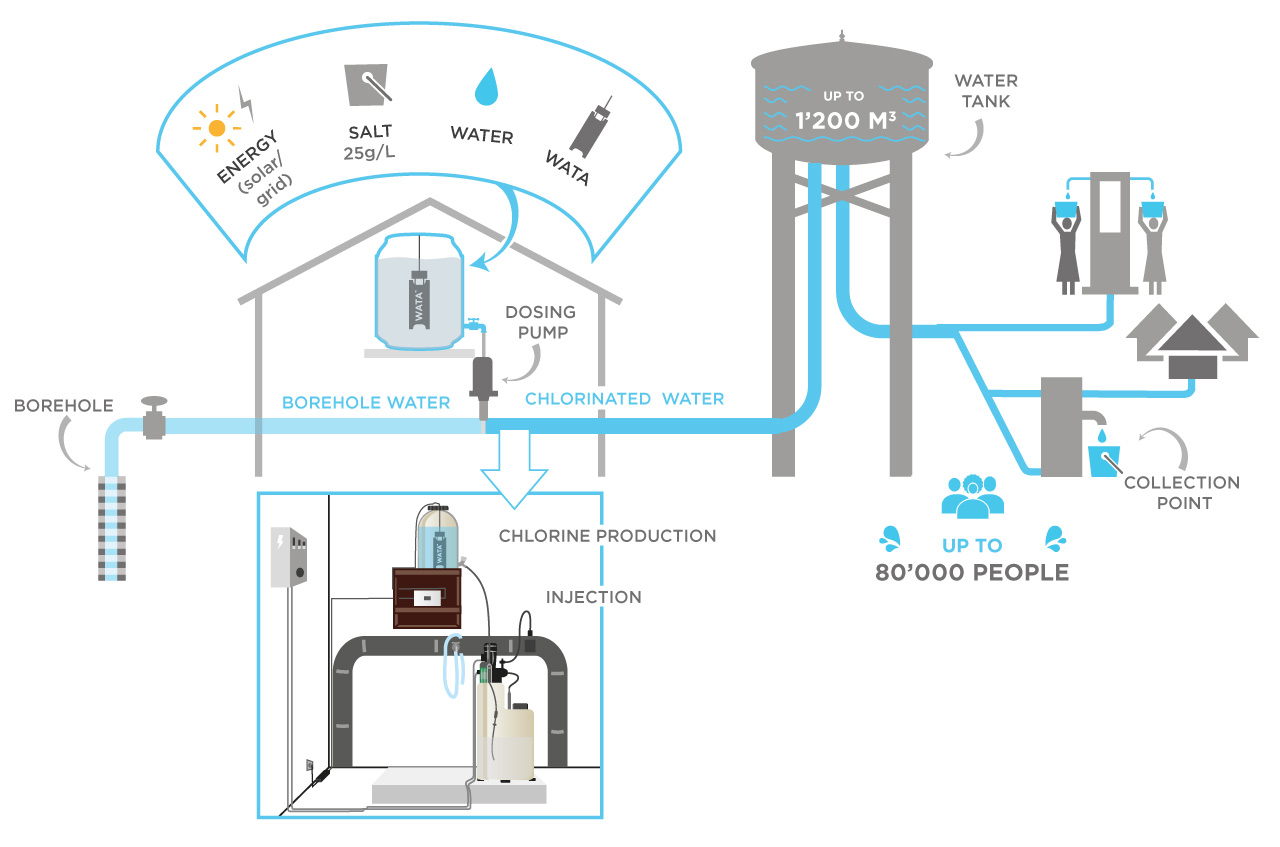 WATER TREATMENT
OUTSIDE THE NETWORK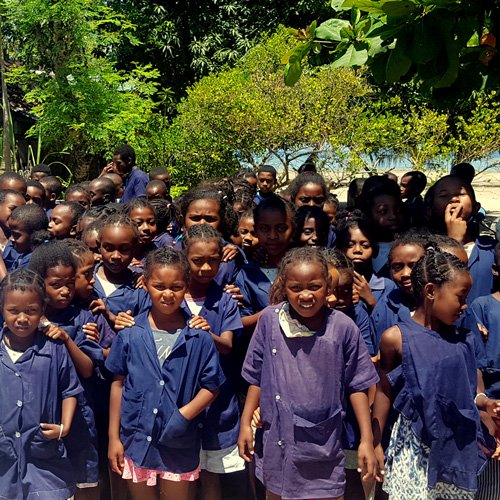 WATER TREATMENT AT SCHOOL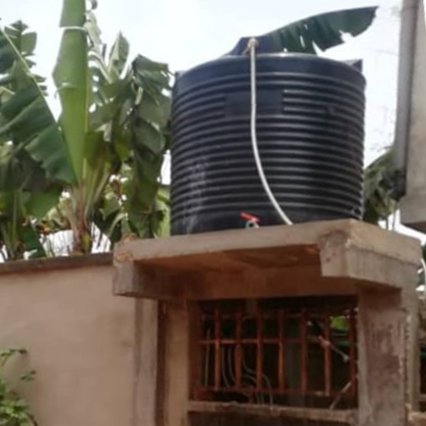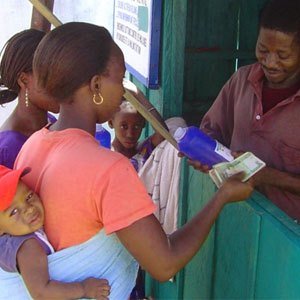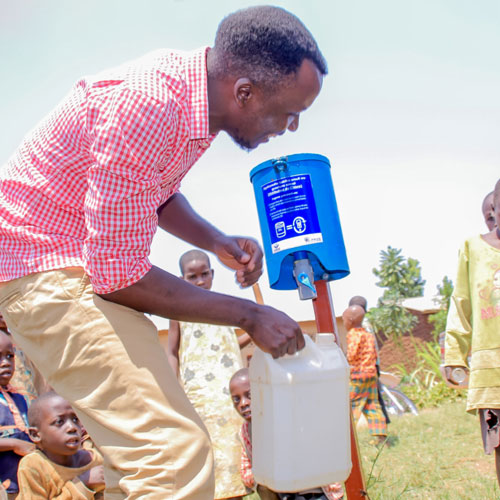 WATER TREATMENT IN HUMANITARIAN EMERGENCIES
84 MILLION REFUGEES* WORLDWIDE
When populations are displaced by natural disasters or conflicts, access to clean water must be provided quickly. Compact and robust, the WATA device can be easily deployed in humanitarian emergencies, even in hard-to-reach areas. The autonomous production of chlorine resolves the common problem of unstable supply chains of chlorine in crisis situations. It is a sustainable and environmentally friendly solution.
 *Source: UNHCR (2021)
Follow a Swiss Humanitarian Aid Unit (SHA) team deployed to Mozambique after the floods caused by Cyclone Idai in March 2019.
The priority was to provide drinking water for the displaced population and to prevent the spread of cholera from water infected with feces. Thanks to WATA, chlorine produced on site disinfected water of E. coli germs. After the humanitarian intervention, the technology was handed over to local organizations to ensure the continuity of the drinking water supply for displaced people.
Benin
2020
Client: Ministry of Health
Financing: GIZ (German Government's International Aid Agency)
Local partner: Burex-3eA
Beneficiaries: 4.2 million
Installation of WATA-Standard devices into the water systems of 56 villages throughout the country.
Equipping 69 health centers for autonomous chlorine production with WATA-Plus.
Project awarded by the "Dakar 2022 Initiative" at the 9th World Water Forum.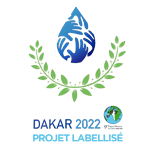 DRC
2019 – 2022
Client: 2 different ASUREP (Associations des Usagers des Réseaux d'Eau Potable)
Funding: ENABEL (Belgian Government's Aid Agency)
Local partner: GoShop
Beneficiaries: 1.2 million
100% solar installations to equip 12 semi-urban and rural drinking water networks in the regions of Kasai Oriental and Maniema. Impact study carried out in partnership with EAWAG.
Installation of WATA devices in village water supply systems in the North Kivu region where cholera epidemics regularly occur.
The particularity of the ASUREPs is that the community, represented by an association of local inhabitants, manages their own drinking water system.
Syria
2020
Clients: ICRC, UNICEF
Image credit: ICRC
Supporting the treatment of water systems in small towns where armed conflict prevents the proper functioning of water treatment plants.
Chlorine gas can no longer be transported by land because of the risk of explosion.
WATA devices are used to produce active chlorine directly at the water treatment plants of provincial cities.

FIELD SURVEYING AND SIZING

PRODUCTION AND LOGISTICS

TRAINING AND IMPLEMENTING

MONITORING AND EVALUATION

FIELD SURVEYING AND SIZING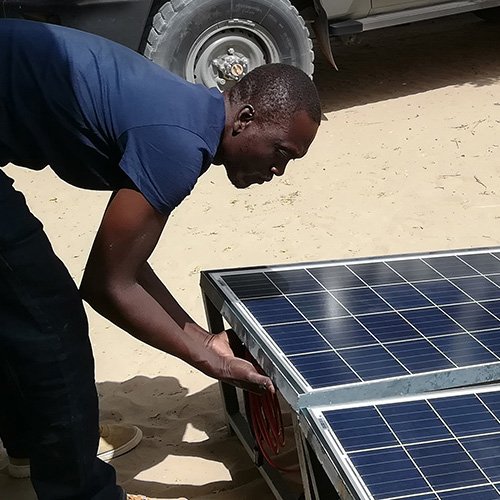 PRODUCTION AND LOGISTICS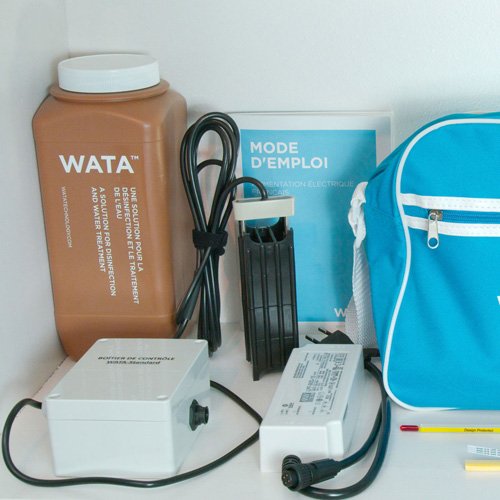 TRAINING AND IMPLEMENTING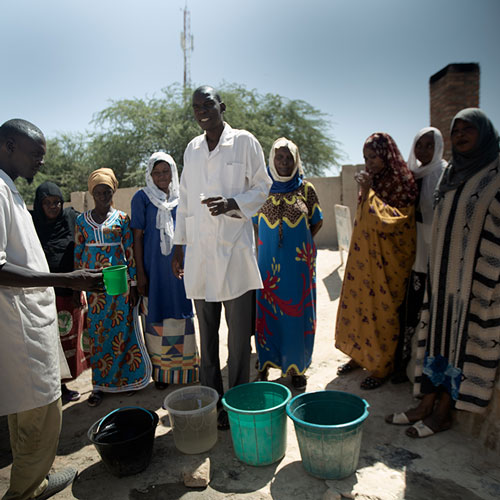 MONITORING AND EVALUATION